Ready to breed and ship...
(re) starter kits

Tired of bad results? Ready for a (new) start with some ready to ship and breed pigeons?
  
The (re) starters kit below are hand-picked by myself (Jan de Wijs Jr.) During the selection of these birds I did not only look at the pedigrees but also the pigeons themselves. Trying to form a strong base for your ambitions. All these pigeons are vaccinated, in perfect health, ready to ship and breed! I am confident that with these pigeons you will breed at least some useful pigeons! 
2022 Young Bird Kit
With a head role for
Willem de Bruijn
Does a man like Willem de Bruijn really need an introduction, we wonder? When you are considered as one of the top fanciers in the Netherlands whose name is well known all over the world, it would seem like everything that can be written about you has indeed already been written. However, Willem himself has never been one to be content with past achievements and therefore continues to experiment, to evolve, to adapt, and consequently… to rack up new top performances. Now you have the chance to give yourself a head start on short / middle distance.
 
These six pigeons are bred by Comb. Anders from Boskoop. They are ready to ship and breed.... If you ever beleived we know something about pigeons you buy these 6!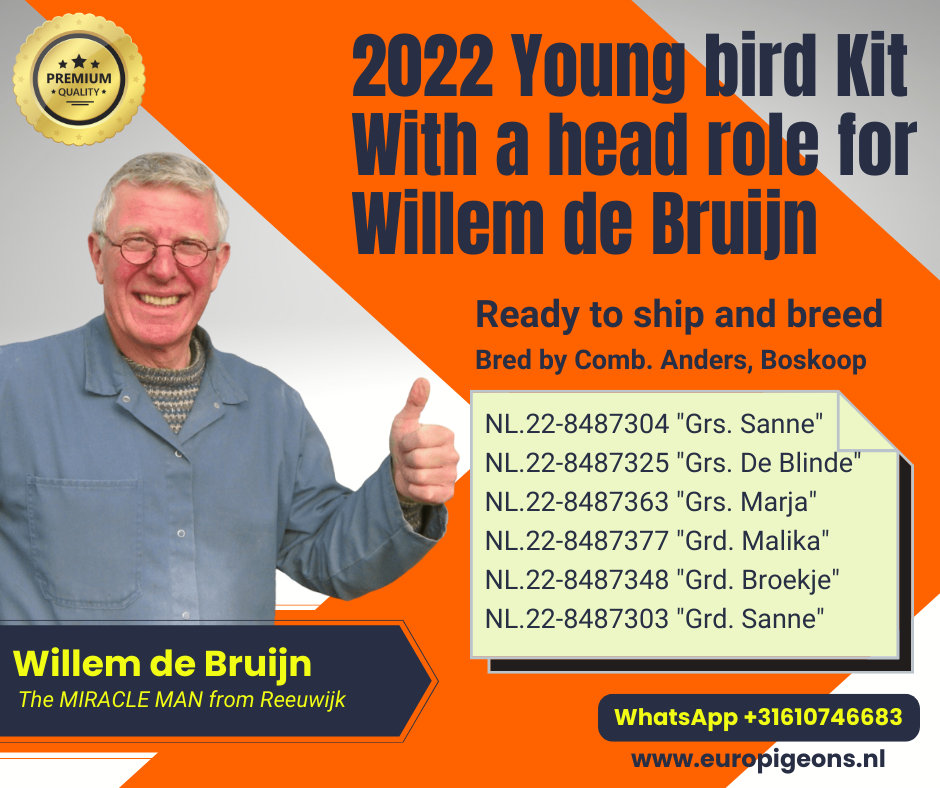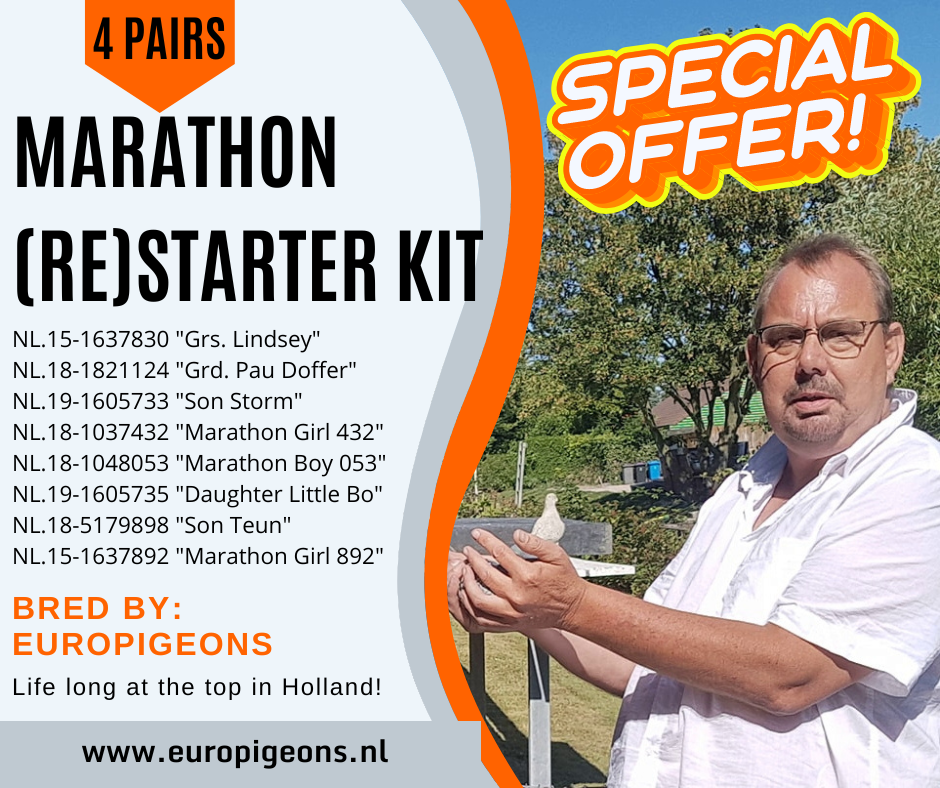 Marathon (re) starters kit
4 pairs bred by Jan de Wijs & Son
DELFT & DEN HOORN, THE NETHERLANDS
Life long at the top at extreme long-distance. Competing at the top of the most prestigious marathon races in the world. 94 x in the top 100 National since 2000! Owner of the fastest Jan Aarden based strain on the planet! Races like Pau, Marseille, Perpignan, St. Vincent one by one races above 1000 KM and Barcelona is even almost 1200 KM to our lofts in Den Hoorn & Delft! We build our winning strain with the best of:

- Jan Aarden
- Batenburg vd Merwe
- L & A vd Wegen
 
Now you have the ultimate chance to give yourself a head start at the marathon races, with these 8 pigeons you have all lines that forme the base of all our successes!